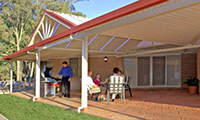 Gable roof designs add a feeling of spaciousness - and take full advantage of the light and space created by a pitched roof.

National Patios can add variety to suit your home's style with a combination of pitched and flat roof elements. The pitched roof increases airflow and light filtration giving you more room to move. Combined with a flat roof the combination can be customised to suit your exact requirements - with either a single skin or insulated roof.
Gables are ideal for a range of designs and applications and can be effectively incorporated into a range of patios and patio covers - as well as sunrooms.