National Patio's Supa Kool Al is a high tensile aluminium single skin roofing option which is ideal for hot summers.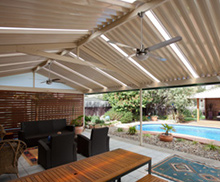 With it's aluminium construction making it cooler than similar steel single skin roofing Supa Kool Al is a great choice for patios, pergolas, carports or any other situations were protection from summer heat is important. Supa Kool Al will also never rust.

National Patios can add variety to suit your home's style with a combination of pitched and flat single skin roof elements.

The pitched roof increases airflow and light filtration giving you more room to move. Combined with a flat roof the combination can be customised to suit your exact requirements.