Next Generation Products
National Patios now offer an exciting range of new generation sun louvres and shutter systems - designed to make the most of your lifestyle. With these systems (and our opening roof range) you can directly control the sun, wind or rain and gain the most out of your environment or control your outlook and privacy.
Renovating or building new, our louvres and shutters are engineered to compliment today's architectural styles, adding to the aesthetic value of your home or building.
Sun Louvres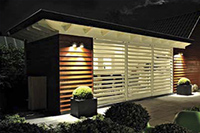 National Patios can supply a full range of Sun Louvres from the 40mm mini-louvres right up to 600mm maxi-louvre.
Alongside this range of eleven individual blades, there are also a number of motorised or hand operable systems to choose from, plus two distinctly different fixing options.
All of our Sun Louvres are designed to operate using a variety of proprietary operable and fixed systems.
This allows for a customised approach that can meet the design and functionality requirements of any louvre project.
Shutters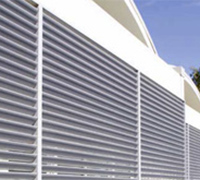 National Patios now also offer an exciting range of internal and external aluminium louvered shutters.
The range includes sliding, hinged and bi-folding systems, with the louvre panels available as fixed blades or operable (with three distinct operating systems to choose from).
A well designed shutter system provides privacy, shade,shelter, security – with stylish looks.