Intro
Insulated roof panels will help keep your patio area cool in summer and warm in winter.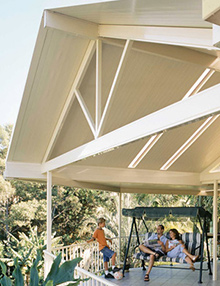 With a combination of high-gloss roof to reflect heat and low-gloss ceiling finish beneath insulated roofing is ideal for both patios and sunrooms where indoor comfort levels are required. Insulated roof panels offer both increased insulation and potential energy savings.
Year-round Climate Control
An insulated roof is ideal for many outdoor entertaining areas - sunrooms, patios and car ports - with impressive insulating properties for year-round climate control.
Unique Features
National Patios offer a unique range of insulated roof solutions. Only we can deliver all of these features:
• Built in light panels*
• A wide range of colours and different thickness
• Modern and slim-line appearance
• Light weight design -yet strong over large spans
• Excellent insulating qualities • download specs & info
*Light panels can be incorporated into National Patios insulated roofing to add natural light to your sunroom, patio or carport • contact us about this unique feature.
Excellent Insulation
An insulated roof from National Patios can provide both significant energy savings and improved acoustic comfort for your outdoor area all year round.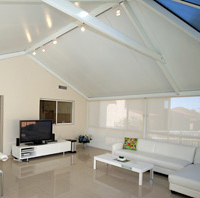 The insulating qualities of building materials are usually measured and described as their R Value - the higher the R Value the better the insulating qualities and energy savings.
Some examples of common R-values:
Glass windows 0.17
Double glazed windows 0.5
National Patios 55mm insulated roof* 1.49
Single skin roof 0.00
The excellent R value of the insulated roof shows the effectiveness of this product. (Note:*90mm insulated panels have an even higher R-value of 2.34)