Composite Decking
The Sustainable Alternative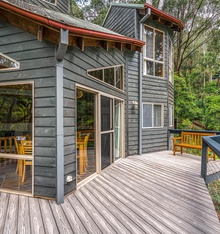 National Patios are the recommended installer of BriteDeck Composite decking, a beautiful and durable alternative to traditional timber that is environmentally friendly and maintenance free.
Our composite decking is made from a combination of recycled hardwood and polymers, combined to produce a high quality finish that outperforms traditional treated wood.
These sustainable materials are combined with colour pigments, UV inhibitors and anti-slip agents to deliver a sustainable, safe and low maintenance alternative to the rainforest timbers often used for outdoor decking in Australia.
Cost Effective:
These high-performance boards were developed to provide a cost effective option for customers wanting to make a positive environmental decking choice without compromising on quality.
Our experience with building and maintaining composite decks has shown us that once the comparable costs of cleaning and staining a traditional timber deck and the ongoing maintenance associated with annual staining etc. then composite decking can save you a considerable amount of time and money over the many years of its useful life.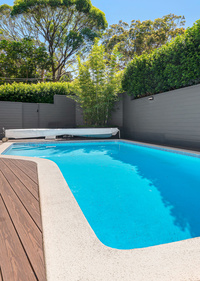 Why choose Composite Decking
Available in 5.4 metre and 5.8 metre lengths
Made from high quality hardwood and recycled polymers
18 gorgeous colours across 3 different product ranges
No repeating patterns
No warping, No Splinters, No Nails
No staining, No Oiling No Painting
Certified P5/R11 Slip Resistant
UV Tested against fading
Minimal water absorption
Concealed fastening system for a seamless installation
Resistant to Termites/White Ants
Perfect for residential or commercial areas
15 year warranty and 30 year for our premium range
Fire rated BAL 29 boards available
Low Maintenance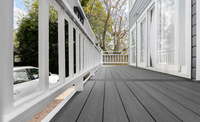 One of the best features of our composite decking is that it requires only occasional cleaning in order to keep the surface free of dirt and general grime.
We recommend normal sweeping and cleaning of your deck at regular intervals. Periodic cleaning with a mild detergent or household cleaner will help to keep the surface in top condition and will greatly reduce the potential of any mould growth forming on dirt or food scraps left to build up on the deck.
BriteDeck Australia's
#1 Low Maintenance Deck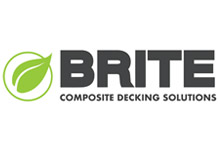 Build the outdoors of your dreams with BriteDeck, Australia's oldest and most trusted low maintenance composite board. Crafted from high quality polymers and recycled hardwood, these boards have been specifically engineered for Australia's unique conditions.
BriteDeck is available in a huge selection of natural colours and textures, with a style to choose any budget and design. We are ACT's only certified installer and distributor of the most durable and beautiful composite deck in Australia.
Easy to install and Quality Assured
BriteDeck's innovative fastening system means no screws or nails, providing a sleek and seamless installation that is 60% faster than traditional wooden decks.
Each board is rigorously tested to comply and exceed Australian standards. That's why every BriteDeck board is backed by a massive 15 year warranty and 30 years for our premium range.