Inside & Outside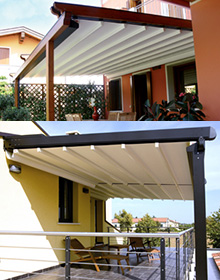 The National Patios adjustable fabric roof system gives you the option to stay outside and enjoy the sun, or be protected from it.
Our awnings system can be easily adapted to a range of designs and buildings and can be installed on existing timber or aluminium structures to give protection immediately.
Transform your outdoor to indoor, thanks the innovative design and the high level of weather resistance.
Features
- UV & heat protection creates a pleasant outdoor environment
- Architecturally designed profiles & components that can be colour coordinated to the existing house/building
- High quality construction & robust components guarantee long lifespan and ease of operation
- High weather resistance.