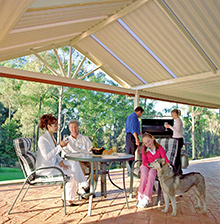 Cool in summer, warm in winter
Expand Your Lifestyle
National Patios can expand your lifestyle into a modern, comfortable outdoor entertaining area. With our unique range of quality materials and customised designs we can create the ideal outdoor area with the perfect balance of shading, air flow, sun control and light.


We can provide perfect climate control with a single skin, insulated or opening roofing to keep you cool in summer and warm in winter.  We also have a range of curved roof solutions to make the most of your outdoor areas with contemporary styling.


Experience & Reliability
As well as patios and patio covers National Patios can also create the perfect deck, sunroom or extension (including home gyms, garden rooms, studio rooms, rumpus rooms).  We have the experience and expertise to integrate our various designs and products to create the perfect combination of features for your exact requirements
Louvretec Super Roof
Deck and opening roof
All the options covered
Whether you prefer a flat roof, gable or pitched / flat combination we have a range of options.  And all of our designs are customised - we don't use pre-fabricated kits.

So if you need the added features offered by a single skin, insulated, opening or curved roof then no problems - we also have those options covered. We also specialise in the design and creation of quality decks (timber and composite), sunrooms, paradise rooms, external louvres / shutters and a range of multicell polycarbonate systems - such as SUNGLAZE.


In fact we have all your outdoor requirements covered – contact us to discuss how we can expand your lifestyle with a stylish and comfortable outdoor area by National Patios.